Sometimes you just have to follow the signs, and five of them ganged up to point me here. To start with, for whatever reason, I've heard Johnny Cash's recording of "A Boy Named Sue" a lot lately. You may remember that it's about a guy who hated his name "Sue" so much that he swore to kill his daddy for the lifetime of teasing and fighting it caused.
Sign two popped up a couple of Sundays ago when someone at church came up to my wife and said he had a new grandson and that the boy's parents had named him "Roland." "But they're going to call him 'Rollie' for short," the man said, pronouncing it correctly like the capital of North Carolina. 
Neither of us had ever been told anything like that before. And I took particular note of it the next day when I had read in Time magazine that one of the Hall brothers who founded Hallmark cards was named "Rollie." So that became a third sign.
 "Rollie" is not exactly a common name. The first time I ever heard or saw it not in reference to me was when it showed up in a story we had to read in a high school English class. Unfortunately, that "Rollie" was a Collie dog, and I came in for a fair amount of razing, though nothing like the fellow named "Sue" in the song.
But I digress. To get back to things prompting this post, nearly every time I do a reading and signing for my novel South of Little Rock, someone asks me how I got my name. It happened again soon after the church conversation and my reading the Time article. So the frequent reoccurrence of the question became the fourth sign that I should write this post.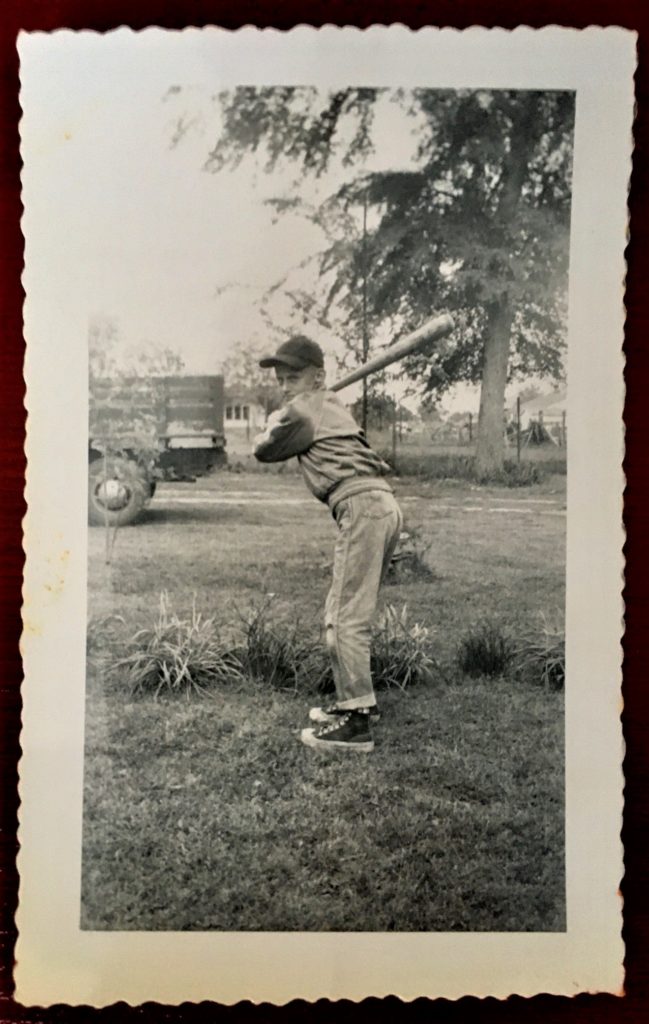 I've been asked the origin of my name in a lot of other circumstances over the years, too, and I'm always happy to explain. But what finally sparked me—the fifth sign, if you will—to do it here is that spring training for Major League baseball is underway in Florida and Arizona.
You see, in my case, "Rollie" is a baseball name. My daddy loved the game. He was a pretty good catcher in his day, and he wanted to name me for a ballplayer, preferably a catcher. But my mother didn't like the idea. Not even a little bit. Every time Daddy came up with a suggested moniker, either it belonged to a well-known-enough player that Mom recognized it, or she simply didn't like the sound of it.
I recall the two of them telling me sometime later that Daddy started his naming campaign with his two favorite catchers—Mickey Cochrane and Rick Ferrell—and that she put her foot down right off the bat (no pun intended). I don't know whether he ever brought up Gabby Hartnett, Moe Berg, or Spud Davis, but I'm pretty sure those wouldn't have passed muster with her either, even if she hadn't known they were ballplayers. 
In any case, Daddy persisted and eventually suggested "Rollie." Either Mother had never heard of Ralston Burdett "Rollie" Hemsley, or she just plain gave up. Hemsley, by the way, caught for 20 seasons in the Major Leagues and played with 7 different teams, chiefly the St. Louis Browns and Cleveland Indians, but also the New York Yankees. At the time of his retirement in 1947, he was the only player who had played in the All-Star game for both the American and National Leagues. Still, his was not a household name.
Over time, perhaps in part because of my Southern accent coming out when I'm introducing myself, I've been called everything from "Ollie" to "Wally" to "Roll-e." I've also been addressed a bunch of times as "Ms. Rollie Adams" by people sending out junk mail. But after that one time with the canine in English class, I was teased about my name only once more. And doggone it (pun intended this time), my mother was the cause of it. 
We didn't have proms in our high school. We had Junior-Senior Banquets instead. At those, the president of the junior class always acted as master of ceremonies and was responsible for, among other duties, roasting seniors and faculty members. For some reason or other, I happened to be president of the senior class, which made me a top target. When a group of juniors went to my mother, then a third-grade teacher, looking for something embarrassing to tell on me, boy, did she ever give it to them.
In front of both the junior and senior classes and the entire high school faculty, I was presented with a gift I had to unwrap for all to see. When I pulled out a small baby bottle and stood rolling the thing over in my hands trying to figure out the juniors' angle, their class president said over giggles that were turning rapidly into guffaws, "We wanted to give you this because your mother said that when she and your daddy took you off your baby bottle, you went around for weeks crying, 'Pig got Ollie's bottle.'" 
I asked Mom later why she told them that, and all she could say is that she thought it was a cute story. Really? Truth is, my classmates loved it, so I didn't much mind it. Later, though, I wondered if her sharing it was in part a way of getting back at Daddy for fooling her. Maybe I should have asked her why, for goodness sakes, she couldn't have found another way to do it.
All that aside, being "Rollie" has been enjoyable. I love baseball like my daddy did. The name stands out. And it's often a good conversation starter. The only real problem I've ever had with it has come from its being a middle name. Government agencies, schools, hospitals, banks, and just about all other legal entities seem to care only about first and last names. Sometimes if I forget to use my first name instead of my middle one in talking with them, the first thing I get back is, "Huh? Who'd you say you are?" Anyone else have that problem with a middle name?
Johnny Cash's buddy Willie Nelson sang about not letting your babies grow up to be cowboys. Sometimes I dream of a song called "Don't Call Your Babies by Their Middle Names."
To be notified of new posts, please email me.