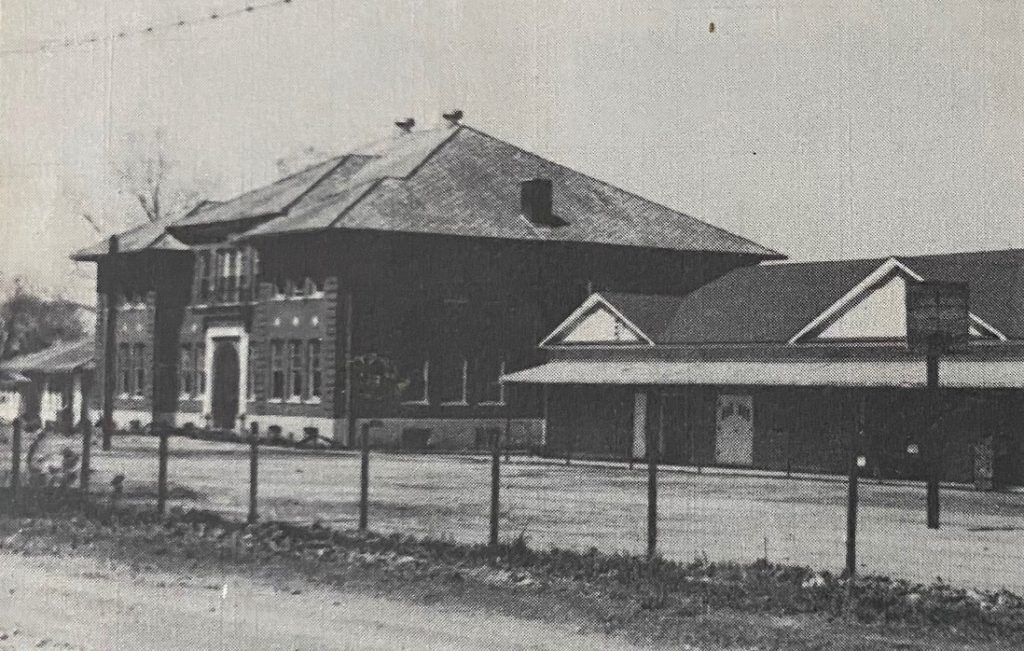 What happens when chewing tobacco, a Christmas tree, a pony, and a paddle with holes in it cross paths? It's not pretty, I can tell you.
But it's what came to mind right off the bat when a photograph of a no-longer-extant but onetime landmark school building in my hometown appeared recently on a history group Facebook page. The two-story, red-brick structure, erected early in the 20th century, once housed the entire white high school in the small, segregated southern-Arkansas community where I grew up.
During the mid-1950s, when I spent four school years in the building, it accommodated grades three through six. The ground floor had four high-ceilinged classrooms, an infirmary, a store, and the principal's office. As best I recall, the upstairs had at least three classrooms, a storeroom, and a large assembly hall that at an earlier time also served as the school cafeteria. 
A small one-story addition on the rear of the building housed the boys' and girls' restrooms. Reaching them required exiting the main building and walking around back in the elements. I don't know the reason for that placement—easy access from the playground, perhaps—but in the winter or during a rainstorm, it tended to discourage students from asking to be excused simply to miss a few minutes from class.
Behind the restrooms, a large playground sloped gently northward toward a white house with a small pasture beyond which woods extended over numerous acres. And there is where the chaw met the Christmas tree and thereby tied the pony to the paddle. Let me explain. 
In the house lived the high school agriculture teacher, his two teen-age sons, and their mother, who happened to be my fifth-grade teacher. Here I will call her simply "Mrs. D." Her classroom overlooked both the playground and the family homeplace, and in the pasture lived the family pony, Rex, a beautiful animal with a reddish-brown coat and whitish mane and tail.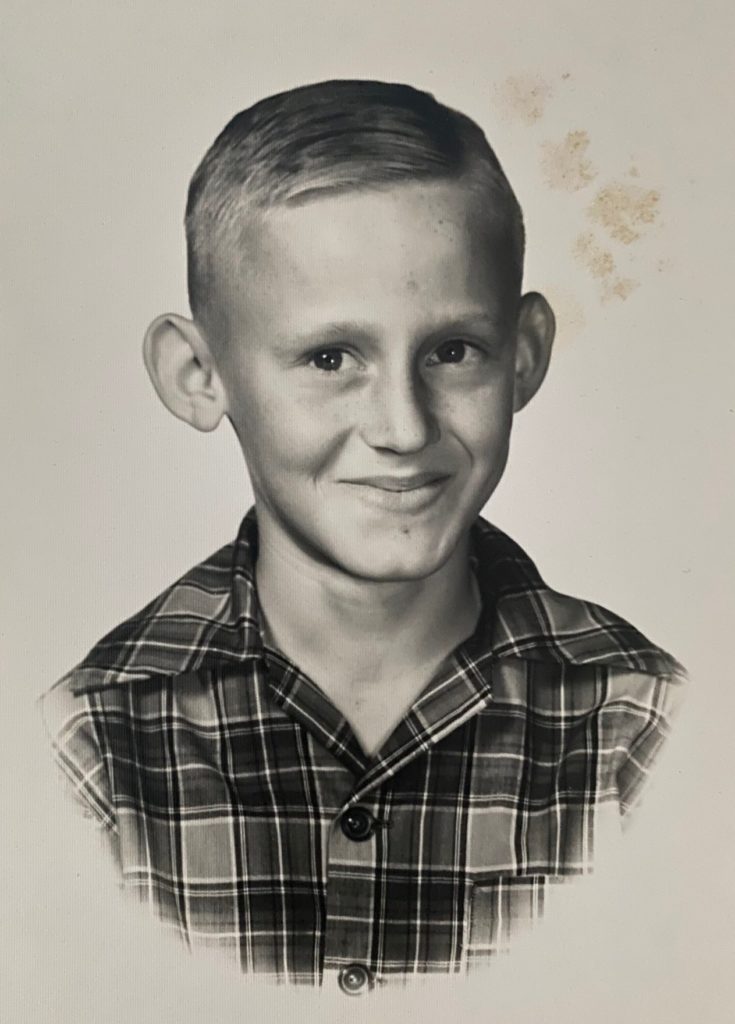 Periodically, all elementary school classes gathered in the assembly hall after a combination lunch period and recess to watch films on a variety of topics. I remember especially the biographical pics about American political and literary figures. One film day as Christmas approached, Mrs. D assigned four of her students, me included, to take a hatchet during the lunch hour, go to the woods, and cut a Christmas tree for our classroom. No teacher could make such an assignment today, nor do what Mrs. D did when things didn't work out the way she expected. But that was a different era.
"You will have plenty of time," she told us, "but don't dawdle. Be sure you're back before the first film starts. And whatever you do, don't let Rex out." She added the last admonition because getting to the woods and back on time required cutting through Rex's pasture.
Mrs. D was one of the most interesting teachers I ever had, especially when it came to Arkansas history and the geography of the United States. She was even able to make sense of diagramming sentences. But she was also a person of stern countenance who brooked no foolishness. Any directive she gave was always backed up by the foot-long paddle she kept in her middle desk drawer and never hesitated to use when she thought some offense or other warranted her doing so. 
Though short and not very wide, the menacing device was thick, worn smooth from long use, and had, near one end, a couple of half-inch-wide holes that sometimes made a swooshing  noise when she snapped it hard on the downstroke. The swoosh seemed to amplify the pop the thing made when it stuck the behind of whichever kid happened to be on the receiving end of it while bending across her desk. This should have been enough to ensure a smooth and uneventful search for a Christmas tree.
But it wasn't. What can you expect when you let four fifth-grade boys loose from a tightly run classroom, especially when they have a hatchet, will be mostly out of sight, and have nearly an hour for a jaunt in the woods? She should have known better. But then, the same could be said of us.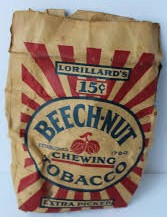 As soon as we got out of her hearing, one of the boys—Bob I'll call him, as I won't use real names here—who was a good bit older than the rest of us said something like, "Boy, this is gone be fun. Wait till you see what I've got. I'll show you when we get to the woods." Naturally, we pestered him to tell us right then, and he did, careful-like, keeping his back turned to the school building. "I've got a sack of Beech-Nut." None of the rest of us had ever had a chaw of tobacco, and the possibility of taking one now added to the excitement of an already rare adventure during school time. So much so that we failed to latch the gate between Rex's pasture and the schoolyard.
Moments after we hit the woods, Bob took a big chaw and handed the rumpled red-and-white pouch to Tim. He filled one jaw with a chunk of the brown stringy stuff and passed the bag to me. My stomach started turning as soon as I sniffed it, and I pitched the pouch to Johnny without sampling the contents. He also took a pass on trying it. Cries of, "Chicken," "I'm not either," and "You are too" echoed through the forest as we ambled along teasing, arguing, telling jokes, and, in two cases, spitting—and not at all looking for a Christmas tree. We came to our senses only after Tim, who had swallowed as much juice as he had spit out, turned a peculiar shade of yellow, got a case of the heaves, and we realized that time had gotten away from us.
At that point, way too late, we cut down the first scraggly little pine tree we came upon and raced back the way we'd come, out of the woods, through Rex's pasture, and across the empty schoolyard. To our horror, recess was over. We hurried to the classroom, left the tree by Mrs. D's desk, and ran up the squeaking wooden stairs and tried to sneak unseen into the darkened assembly room. But it was no good. Mrs. D was standing right inside the door waiting for us.
At that point we didn't know about the rest of the lunch-time goings-on, or why so many students were snickering at us. But we soon found out. While we were dawdling, Rex had escaped his pasture, and a whole bunch of kids had chased the poor animal all over the grounds trying to round him up.
I never knew for sure what angered Mrs. D most—that we disobeyed her, or that poor Rex had been traumatized, or that two of us had taken a chaw. I guessed, however, that it was the chaw. All four of us got a verbal dressing-down in front of our classmates and had to stay inside for several days during recess, but only Bob and Tim got a paddling. Snap, swoosh, pop! Snap, swoosh, pop! Worse than all of that, though, was the embarrassment of being publicly reprimanded and knowing that we had left our classmates facing the Holidays with the ugliest Christmas tree in the building.
To be notified of new posts, please email me.