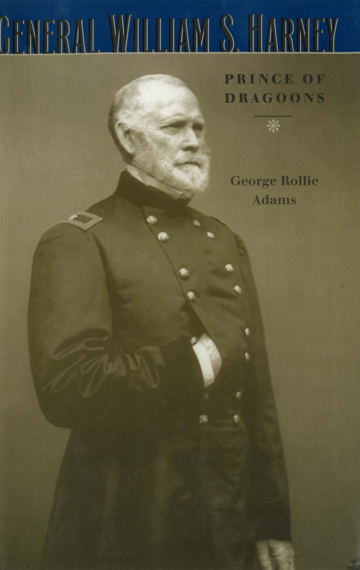 Publisher: University of Nebraska Press 2001
Available in: Hardback and paperback editions
Buy on Amazon
Buy on B&N
Buy on University of Nebraska Press
General William S. Harney: Prince of Dragoons is the story of one of the best-known military figures in America between the War of 1812 and the Civil War.
In a career aided by Andrew Jackson and the concept of an expansible army, Harney saw duty in virtually every part of the country and participated in most of the key military episodes of his time. He chased remnants of Lafitte pirates in Louisiana, campaigned with Abraham Lincoln and Zachary Taylor during the Black Hawk War, developed Vietnam-style riverine tactics that ended the Second Seminole War, and led Winfield Scott's cavalry in the Mexican War.
In the 1850s, Harney devised and led the army's largest pre–Civil War campaign against Plains Indians, commanded troops charged with upholding federal authority in Kansas and Utah, and almost provoked hostilities with Great Britain in the Pacific Northwest. Removed from command amid false charges of disloyalty during the Missouri secession crisis, he sat out all but the first few weeks of the Civil War, then returned as a leading member of the Indian Peace Commission of 1867–68.
For most of his career, Harney had a public reputation for effective military leadership, but he was a flawed human being. He was bold, ambitious, and innovative, but also impulsive, vindictive, and violent. His career illustrates the nineteenth-century army's role in implementing federal policy, highlights its limited resources compared to its responsibilities, and illuminates key aspects of its organizational structure, the behavior of its officers, and its impact on personal lives.
Praise for General William S. Harney: Prince of Dragoons
"Adams's biography, which will not soon be surpassed, does a wonderful job of rescuing an important historical figure from relative obscurity." – Civil War Book Review
"In Adams's capable hands, Harney becomes a flawed hero, with many faults and as many virtues. An excellent book—expertly documented and nicely written." – Choice
"In time, Adams's work will join Charles Winslow Elliot's Winfield Scott: The Soldier and the Man, as one of the classic biographies of an antebellum army officer." – Journal of American History
"A long, detailed biography that reads like a novel. The author has done a commendable job of weaving together information contained in thousands of documents to produce a fascinating story of a general that was half hero and more than half rascal." – Denver Westerners
"Not only has [Adams] successfully presented the complexity of William Selby Harney's personality and leadership style, he has done so in prose that is uncluttered and direct." – New Mexico Historical Review
"A critical appraisal of one of the best-known army officers in America set in the context of a discerning overview of nineteenth-century American military history. It is engaging, informative, and well documented with primary sources. In this commendable work, Adams provides a finely drawn portrait of General Harney and his world." – Montana, The Magazine of Western History
"Anyone interested in military history, especially on the frontier, will enjoy and profit from reading this well-written biography." – Military History of the West