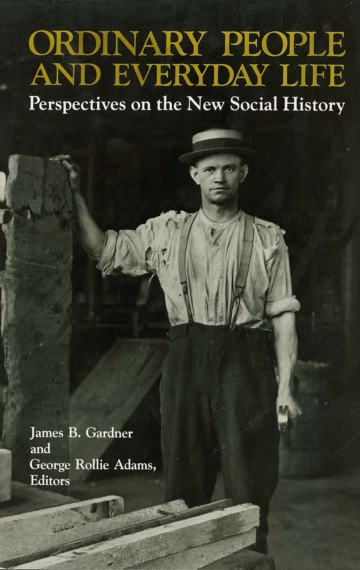 Publisher: American Association for State and Local History 1983
Available in: Hardback and paperback editions
Buy on Amazon
Coedited with James B. Gardner, Ordinary People and Everyday Life: Perspectives on the New Social History presents thoughts by ten prominent scholars in American history and material culture on a new way of doing history in the 1960s, 70s, and 80s.
During those decades, the new social history challenged the ways historians traditionally looked at the American past. Preoccupation with great men and great events gave way to scholarly interest in the everyday lives of ordinary people. This history "from the bottom up" expanded the field of inquiry and introduced new concepts, methods, and sources for historical research and interpretation.
The essays focus on the urban experience, families, agriculture and rural life, women, race and ethnicity, workers and work, politics, the rise of social history, and learning from artifacts, and conveyed a dynamic new vitality and sense of excitement in the field of history as the nation moved toward the twenty-first century.
Ordinary People and Everyday Life grew out of a prestigious national seminar series—funded by the National Endowment for the Humanities—in which the essayists served as faculty. The coeditors of the book organized and managed the seminar series and solicited and edited the essays.
Praise for Ordinary People and Everyday Life
"This carefully edited and thoughtful collection of essays is highly recommended for public and academic libraries, as well as for all organizations that have an historical dimension in their programming." – Indiana Magazine of History
"These essays…should interest not only museum professionals but a wider public of educated laymen, teachers, and practitioners of history." – William and Mary Quarterly