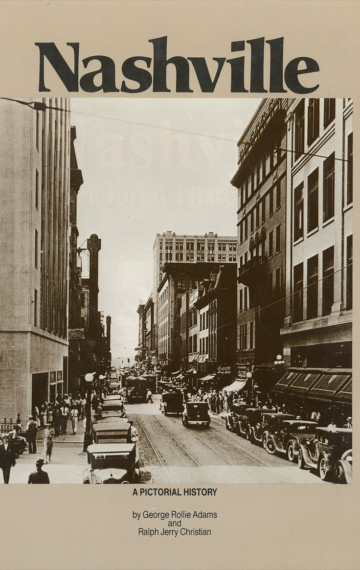 Publisher: The Donning Company 1982, 1988
Available in: Hardback and paperback editions 1982, Revised hardback edition 1988
Buy on Amazon
Coauthored with Ralph Jerry Christian, Nashville: A Pictorial History tells the story of one of America's most fascinating cities, from its early years as a frontier crossroads to its emergence as "Music City USA." The book contains more than 300 fully captioned photographs, many of which are rare and not previously published.
Founded in 1780, Nashville soon became a western metropolis. By the 1820s, it was poised to exert a far-reaching influence on national politics through such Tennesseans as Andrew Jackson, John Bell, and James K. Polk. As a center of trade and commerce, the city was strategically important during the Civil War, and after Federal troops captured it in 1862, it became the principal supply base for the Union in the West.
After the Civil War, Nashville was the leading commercial center and wholesale market below the Ohio River, and by 1890 it had become an important educational and cultural center. The city continued to grow in the early 1900s, and although it struggled like all cities during the Great Depression, the business of country music was already offering promise of a brighter future.
In the postwar years Nashville and its surrounds grew rapidly, and in 1963, the city and Davidson County created a metropolitan government that became a model for the nation. The city also demonstrated leadership in race relations during those years, and music became a leading industry.
In the decades that followed, Nashville prided itself on preserving the best of the past while taking its place as one of the most progressive cities in the nation.
Praise for Nashville: A Pictorial History
"As a native of the city, I found Nashville: A Pictorial History a rewarding book. It is accurate, objective, balanced, and very readable. The whole contributes to an enjoyable evening of reflection upon Nashville's varying—sometimes inconsistent, paradoxical, and extreme—but always interesting and fascinating past." – James Lee McDonough, David Lipscomb College, and author of Shiloh: In Hell before Night and other Civil War books
"Nashville: A Pictorial History should appeal to a broad audience even outside of Tennessee: local history enthusiasts, country music lovers, and the hundreds of thousands of Americans who have Tennesseans and Nashvillians in their family trees." – James K. Huhta, Middle Tennessee State University, and codirector of the Mid-South Humanities Project