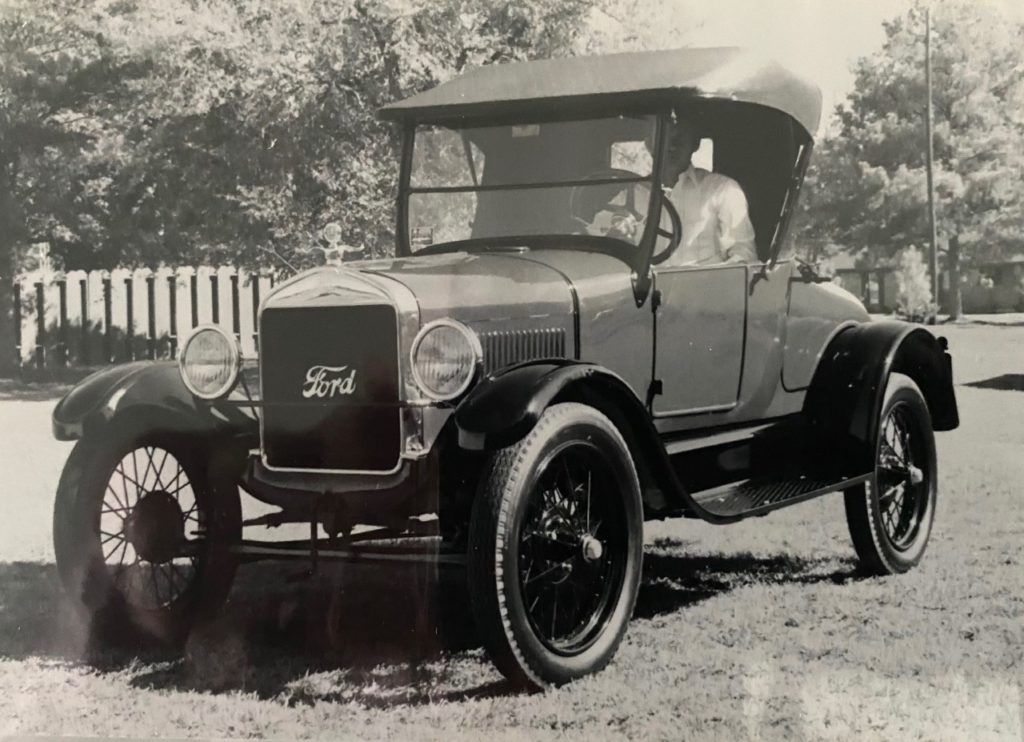 One of the things that those of us who've been around for a while love to do most is remember and talk about the "good old days." There's even a bi-monthly magazine that bears that name and carries personal reminiscences from all over. Of course, when we do that sort of remembering and talking, we tend to filter out unpleasant memories and dress up the rest. Plus, the good things we did become better. And the things we did that were not so nice, and which often happened when we had too much free time on our hands, become less mischievous and we chuckle about them.
I got to thinking about this when I was getting ready to release my second novel, Found in Pieces, and the latest issue of that magazine happened to arrive in my mailbox at about that same time.
One of the individuals who gave me some background information for the book had a role in one escapade that often comes to mind when I think about my teen-age years in the small southern town I called home in the 1950s and early 1960s. Here I'll call the fellow "James" rather use his real name.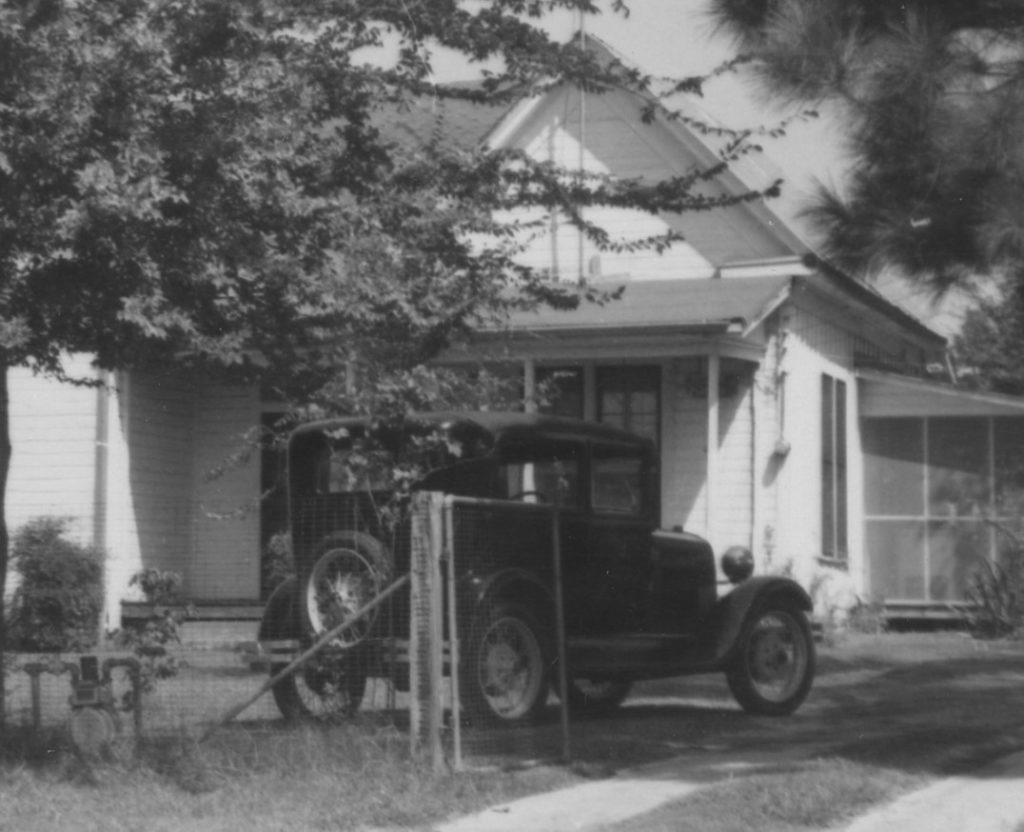 What happened stemmed from the fact that several boys of various ages that my brother and I knew liked cars. There's nothing unusual about that, but my brother, who is five years my junior, was into them way more than most. He had a beautifully restored 1929 Model A Ford, comparable in quality to his later-acquired 1927 Model T pictured above. It put my hand-painted but operable 1929 Model A, pictured here, in the shade. That I even had my car was due to him. He and an adult friend often cruised the countryside looking for, and often buying and dragging home, vintage cars and trucks—mostly Fords and Chevys—that had been rusting for years, usually in no-longer-used barns or near-falling-down sheds. Some vehicles the two of them kept, and some they got running and sold.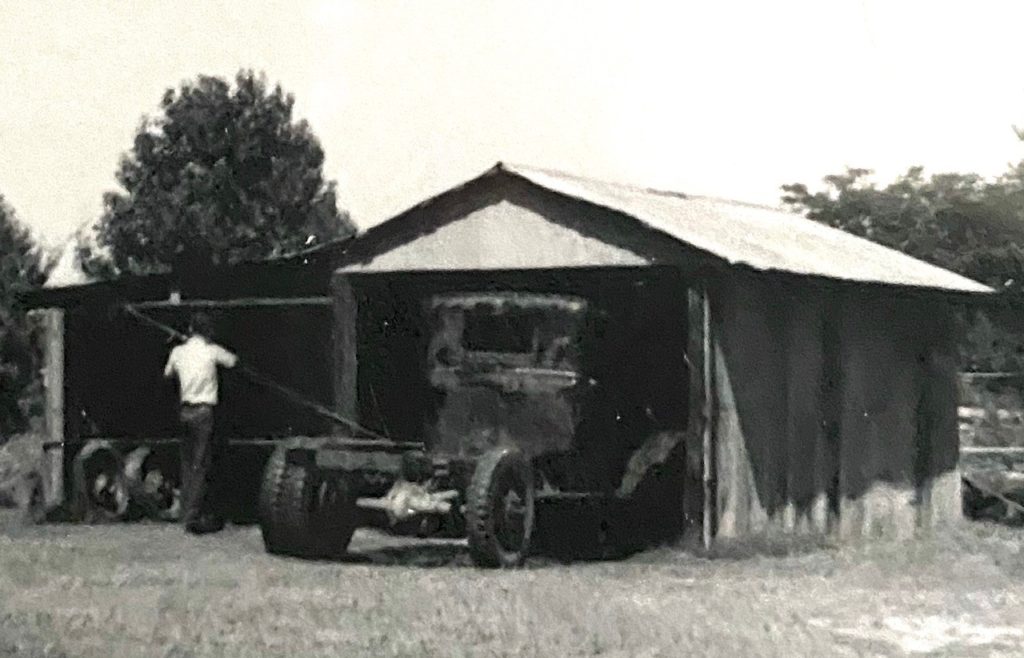 One summer Saturday afternoon, a few hours before James was due home from a trip somewhere, several of us towed one of my brother's "dragged-in" rust buckets out of town and parked it on someone's abandoned homeplace, far back from the unpaved road but still visible. Then on Sunday after church we invited the young man to "ride around" with us. When we went past the old homesite, one of the group spotted the planted vehicle, and naturally we turned back to investigate. That led to our cranking the rust bucket to try to start it, and when that failed, someone suggested we pull it to see if we could start it that way.
By this time, our just-returned-home friend was starting to get uneasy, and when we pulled the old car out into the road, he was pleading with us to stop. "This is stealing. We'll get arrested. My daddy will kill me." A few miles farther down the road the pleading began turning to panic. I don't recall how long it took to convince him that my brother actually owned that old car, but I do know that the young man grew up to have a highly distinguished career in law enforcement. All us who were in on our prank take some credit and lots of pride in his accomplishment.
Another thing we tried never worked, however. Remember the old "wallet (or purse) on a string" trick? I wrote a scene about it for my first novel, South of Little Rock. The scene didn't work for the novel either, so I omitted it. But here it is anyway, with two twelve-year-olds giving it a try from an alley between two stores in my fictional small town of Unionville in 1957:
"Billy! Billy!" Randy Lawson called in the loudest whisper he could manage. He was squeezed as far as possible into the left front wheel well of a dusty green Hudson parked in front of the alley between his father's dry goods emporium and the Otasco store. Darkness was settling on Unionville, and Billy lay scrunched as low as he could get in the weeds between his father's building and the lightly graveled alley ruts. Tired, now, of the game they were playing, he was daydreaming and did not hear his friend.
An old brown wallet lay on the sidewalk about two feet from the alley entrance and a length of colorless catgut fishing line connected it to Billy's right fist. In thirty minutes of waiting to snatch the prize from unsuspecting passersby who might stop to pick it up, they had only hooked Betty Sue Perry, from the grocery store down the street, and she had called them delinquents and threatened to tell their daddies if they did not stop. The boys merely picked up their bait and watched her sashay on down the sidewalk, her bottom wiggling against her tight skirt as Lester Grimes often said, "like two pigs in a tow sack." Then the pranksters re-set their trap.
Suddenly the wallet, kicked by Randy, smashed into Billy's head. A whooshing sound followed, and his friend dove into the weeds on top of him.
"Hey!" Billy grunted. "What'd you do that for?"
"Shhh! Mr. Claude's coming. He already said he'd better not catch us doing this again."
The gnat-sized marshal stopped at the alley entrance and peered in. His badge reflected light from the streetlamps, and the back of his sport coat was hiked up on the handle of his blackjack, so everyone could see it and he could get it out of his back pants pocket in a hurry.
"Randy Lawson, y'all think I didn't see you? Running on the sidewalk like that's a good way to hurt somebody. You boys ain't up to something you ought not be, are you?"
"No, sir," they said, scrambling to their feet, each dancing around trying to stand on the wallet so Mr. Claude wouldn't spot it.
"Uh huh. Well, y'all get on inside and behave yourselves. I don't want to have to run y'all down to the calaboose."
Unlike Billy and Randy, we never got caught, but to the best of my recollection, we never caught any suckers either.
To be notified of new posts, please email me.